La palabra del día: la perrera – the dog pound
El verbo del día: forrarse – to get rich
Palabras interesantes
nowhere – en ningún lugar
to embroider – bordar
the turnover – la rotación
the straw – la pajita
fire hydrant – boca de incendio
to polish – pulir
to sharpen – afilar
to setup – configurar
the zoologist – el zoólogo
the nerd (library rat) – el empollón
expired – caducado
the wildfire – el incendio forestral
the jack stands – borriquetas/caballetes
the waves – las olas
to complain – quejarse
the boulders – las rocas
sore – doloroso
the chronic – el/la crónico/a
Hoy vinieron Abby, Katie, Nicholas (nuevo), Nora, Mel, Lori (nueva), Felix, "T" (nueva), Olivia, Jacob, Richard, Manuel y "E" (yo, el dictador del grupo). ¡Gracias por venir!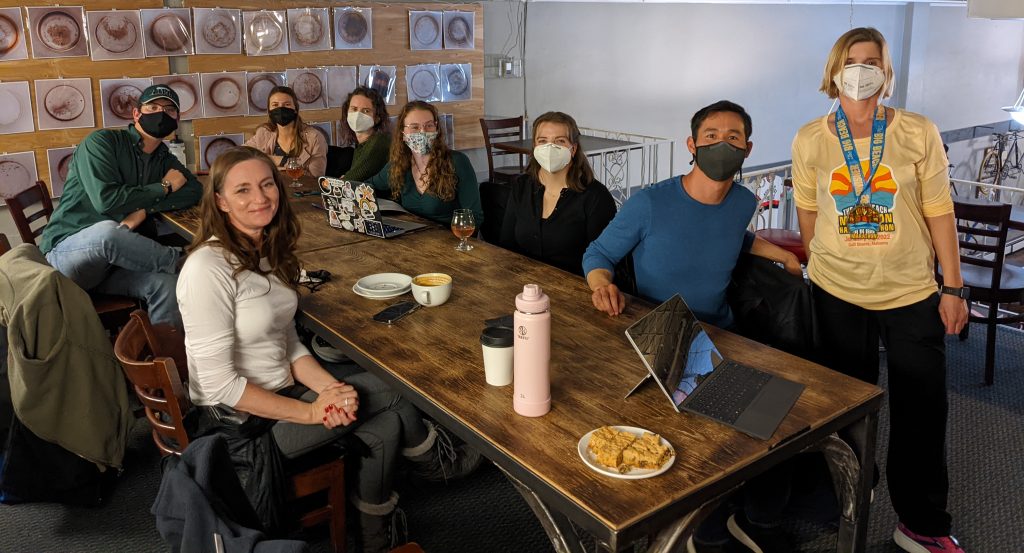 Abby pensó que su conferencia la semana pasada fue interesante la semana pasada y tras dos días estaba lista para volver a casa y relajarse. Ella tiene algunos dibujos biológicos realmente geniales que está usando para ayudarla a expandir su vocabulario científico. ¡Qué gran artista!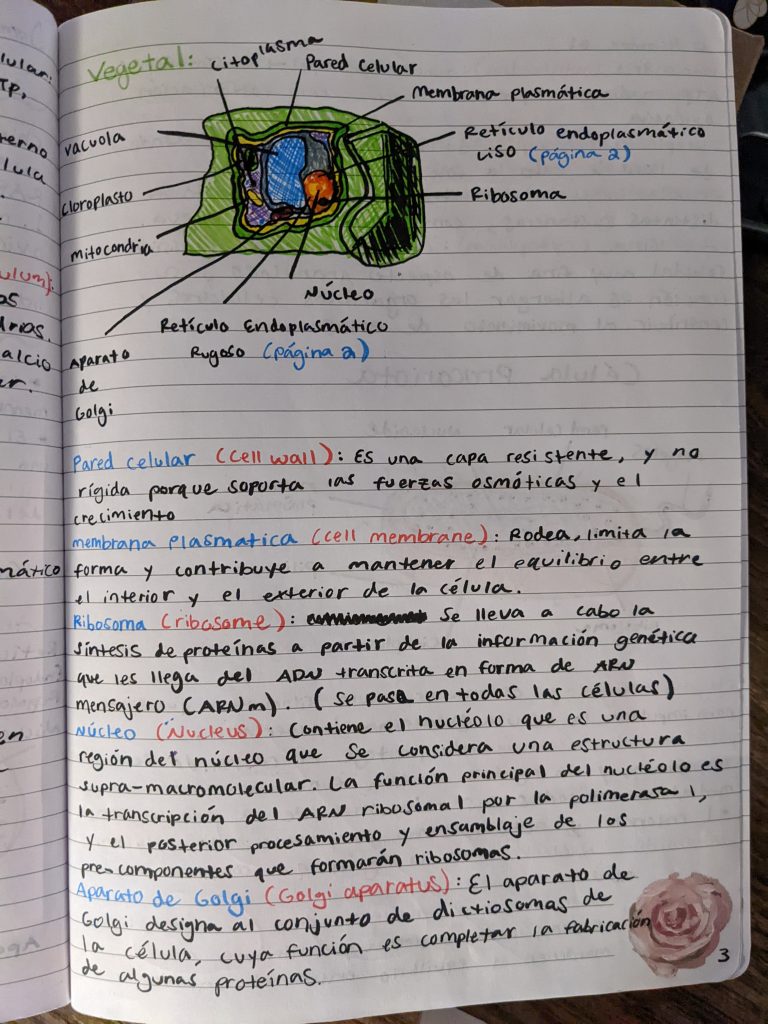 Nicholas (nuevo) vivió en España enseñando inglés a niños durante un año pero regresó debido a la pandemia. Volverá a mudarse este verano para pasar tiempo con un amigo en Valencia. Él es de cerca de Philadelphia originalmente.
¡Mel corrió su maratón en Gulf Shores, AL en 4 horas y 25 minutos! Ella dijo que el viento fue horrible las últimas 8 millas. Llegó al grupo hoy directamente desde su vuelo de regreso, pero estaba muy cansada y se fue temprano para dormir un poco. Alabama fue el cuadragésimo estado en el que corrió una maratón.
Lori (nueva) visitó España durante un mes recientemente y ahora está tomando una clase de español en este momento en CSU. Ella tiene una amiga en Paraguay y su hijo está allí ahora y regresará en marzo.
Nora fue a esquiar el domingo a Winter Park. Dijo que estaba soleado y que la nieve era dura. Mientras estuvo allí, afiló sus esquís. Tuvo que levantarse temprano, a la vuelta se encontró un atasco y luego se quedó atrapada en el tráfico al regresar y se perdió sus planes para la cena.
Félix alquilará su casa durante 30 días seguidos con la ayuda de una empresa de administración de propiedades. Está preocupado por su gato "Oreo" y espera que se pueda dejarle salir de su transportín en las estaciones de descanso de animales durante su estancía en los aeropuertos. Hoy fue su último día en el grupo hasta probablemente diciembre, cuando regrese a visitar a sus padres en California. Se le echará mucho de menos.
Manuel le dio dio unas borriquetas a Felix para que pudiese dejar su coche levantado del suelo, ya que no lo va a usar durante más de 10 meses y no quiere que se le aplanen sus neumáticos.
¡Mira lo que pintó Olivia recientemente! ¡Qué gran habilidad!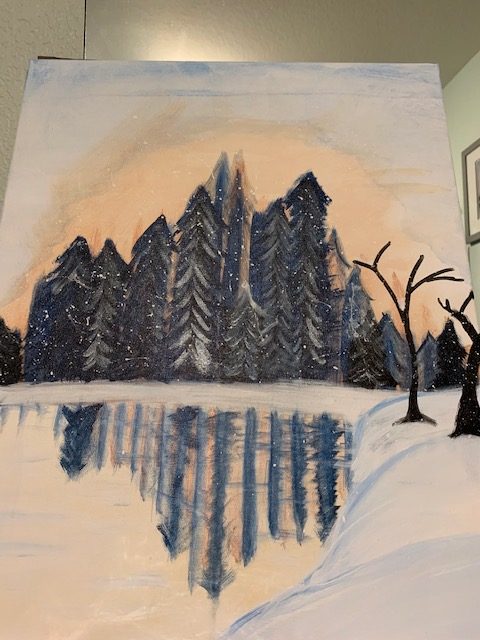 Como siempre, agradezco a Manuel, nuestro maravilloso hablante nativo de español, por corregir mi español.
Aviso Importante:
The county requires mask wearing indoors. We will need to respect this county directive during our 5:30pm – 7:00 pm Monday meetings at The Bean Cycle. Thank you for observing this.
Si no quiere ser incluido en las notas y/o las fotos, por favor dígaselo a "E" (yo, el dictador del grupo).