Hoy vinieron Samm (nueva), Alyssa, Karla, Matt, Vidya, AnnMarie Scott, Christine, Jonathan, Luis (nuevo), Taryn, Katie, Nora, Jacob, Rose, Stacey y "E" (yo, el lider del grupo).
Palabras interesantes:
enfermería – nursing
fluir – to flow
las vacaciones – the holiday
patrocinar – to sponsor
el paisaje – the landscape
la propuesta – the proposal
el procedimiento – the procedure
rasgar – to tear (like paper)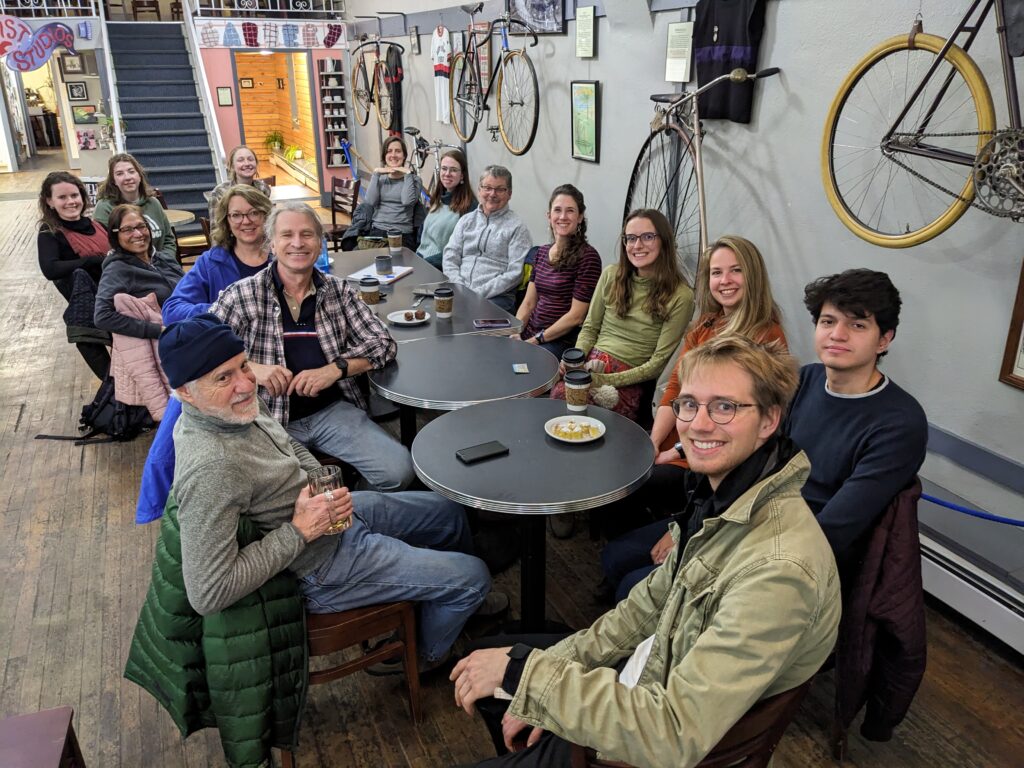 ¡Bienvenidos a nuestros miembros nuevos, Samm y Luis! Gracias por estar con nosotros.
Samm (nueva) es de Spokane, WA y estudia enfermería ahora en Front Range Community College. Se acaba de mudar aquí la semana pasada. Es amiga de Alyssa. Ha visitado muchos países que hablan español: Perú, Ecuador, Panamá, Colombia, Nicaragua, Costa Rica y España. Es muy activa y le gusta caminar, correr y andar en bicicleta (carretera y montaña, pero no al mismo tiempo, sería una tontería, jaja). Aprendió español en la escuela secundaria. ¡Bienvenida!
Luis (nuevo) es nativo hablante de Colombia y estudiante de geología en el programa de maestría con un semestre más para completar. Es amigo de Jacob, así que, por supuesto, a Luis también le gusta correr. También le gusta caminar. ¡Bienvenido!
Nora y sus compañeros de cuarto viajaron durante las vacaciones de invierno, por lo que el gato de sus compañeras de cuarto estuvo solo durante ese tiempo. Tenían a alguien que venía todos los días a pasar un rato con el gato, pero desde que todos volvieron de vacaciones, el gato se ha vuelto loco sin parar con los "zoomies".
Jonathan ayudó a su vecino a romper el hielo en el camino de entrada que da al norte durante el fin de semana, por lo que hoy estaba muy dolorido.
Rose fue a visitar a su familia en Georgia durante las vacaciones de invierno. Montó su bicicleta y comió mucha comida rica.
Stacey fue a Minnesota a visitar a su familia durante las vacaciones de invierno. Fue al museo de ciencias de Minneapolis y lo disfrutó mucho. Ella trabaja en una escuela primaria local y está lista para el comienzo del nuevo año. Le gusta leer, acampar, pintar y caminar. Su compañera de cuarto tiene un perro collie.
Las notas de esta semana fueron "corregidas" por computadora y tendrán errores asociados con esa metodología.
Si no quiere ser incluido en las notas y/o las fotos, por favor dígaselo a "E" (yo, el lider del grupo).