El vocabulario nuevo:
suscriptor = subscriber
undécimo = eleventh
duodécimo = twelfth
jornalero = day laborer
periodista = journalist
absorber = to absorb
untar = to spread (e.g., peanut butter)
gofres = waffles
entrada para el auto = driveway
umbral = doorstep
sirope = syrup (e.g., maple syrup for pancakes)
jarabe = syrup (e.g., cough syrup or syrup made from fruit)
Alex, Laurel, Kayla, Mary, Sarah y yo asistimos a esta reunión, la primera del año nuevo. Laurel y Kayla asistieron por primera vez.
Laurel es maestra en Escuela Primaria Irish (el nombre de la escuela; no es una escuela irlandesa). La mayoría de los estudiantes allí son latinos y ella les enseña español y matemáticas. Kayla es maestra también; enseña segundo grado en Escuela Renacimiento Cristiano (Christian Resurrection School en inglés). De hecho, todas las mujeres en esta reunión son maestras. En contraste, Alex hace estudio de mercado en una compañía, y yo soy ingeniero mecánico.
Hablamos sobre un problema que tengo con el periódico Coloradoan. Ellos entregan un periódico "gratis" llamado Ticket a todas las casas en Fort Collins. Pero esta publicación tiene solamente dos páginas de información y diez o más páginas de anuncios; por eso, nadie ni lo lee, ni lo quiere . Al menos, ¡yo no lo quiero! Durante el año pasado, me puse en contacto con Coloradoan muchas veces por teléfono y email, pero siguen tirando su basura (en una bolsa de plástico) en mi entrada para el auto cada semana.
Por último, puse esta señal en mi acceso: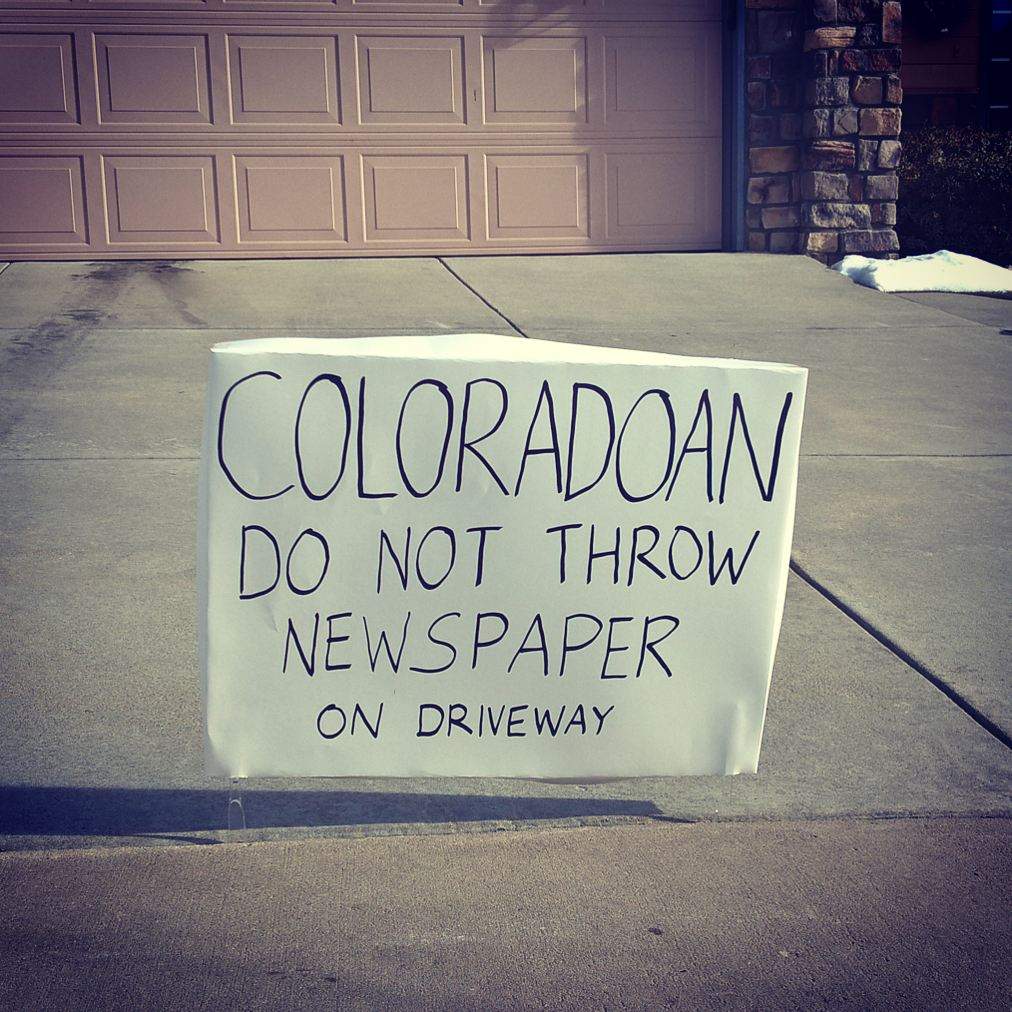 Desafortunadamente, el resultado de esta señal no fue satisfactorio. El repartidor vio la señal, pero en lugar de tirar el periódico en la entrada para el auto, ¡él lo entregó al umbral de la puerta!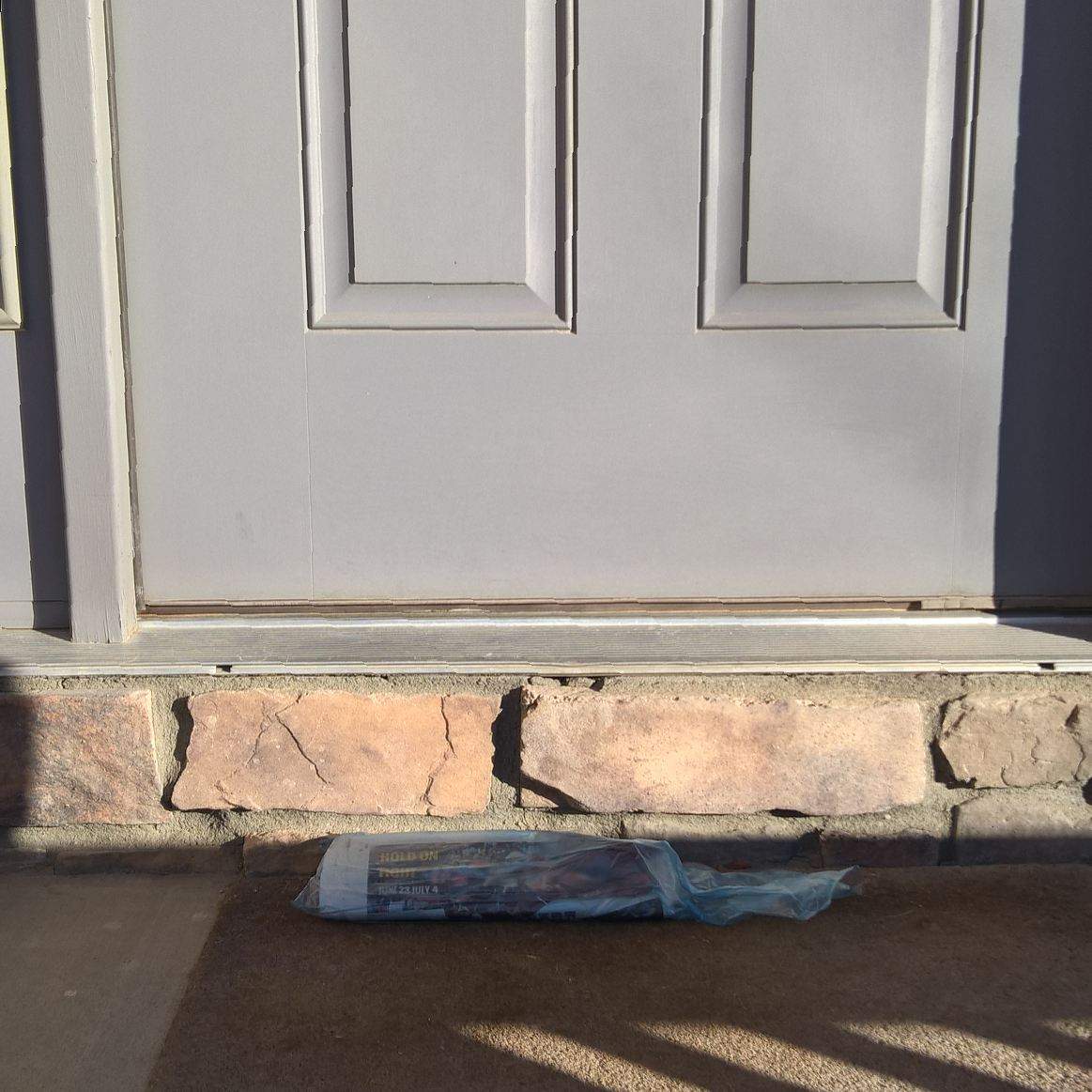 Por eso, la próxima semana, revisé la señal: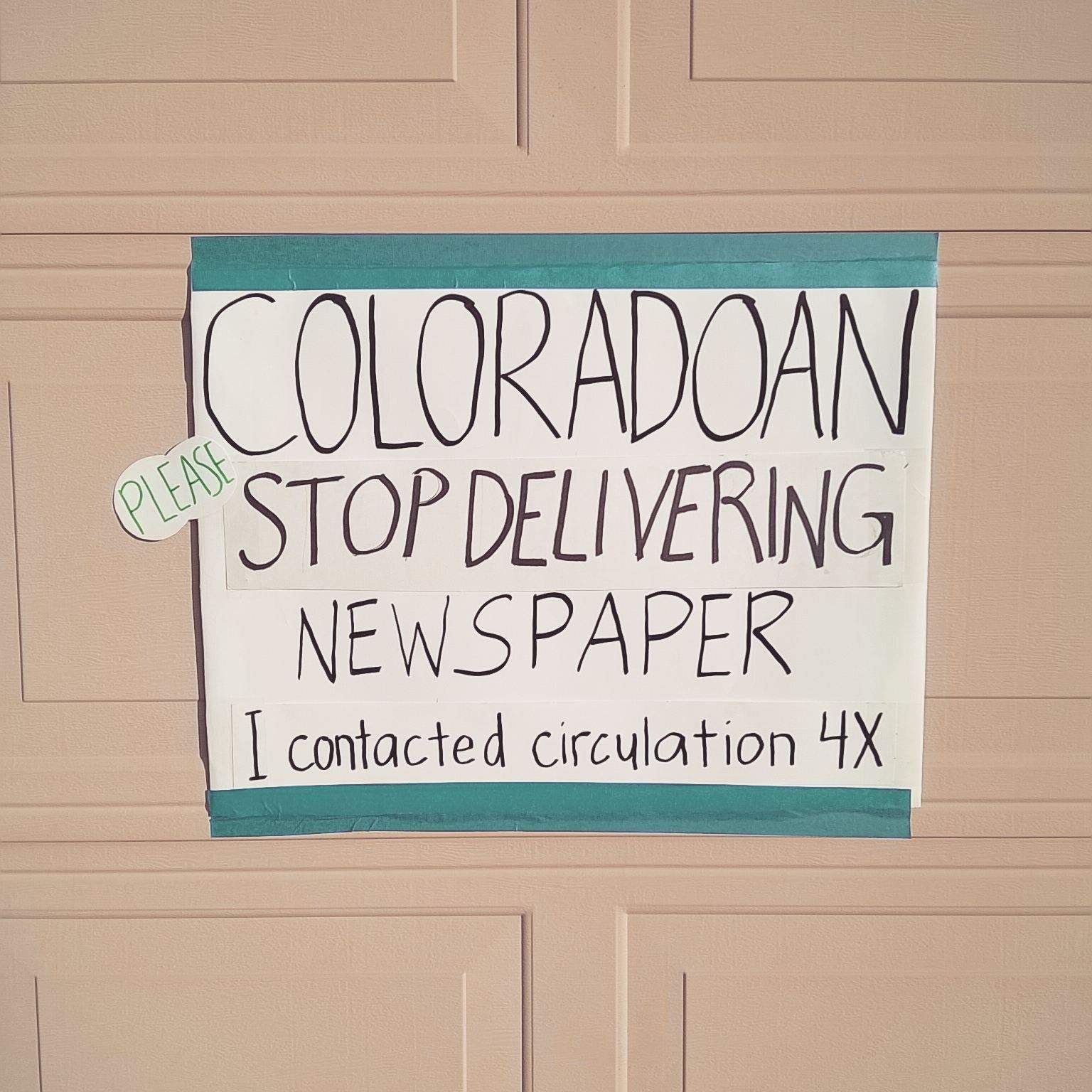 Finalmente, no me dieron la publicación por primera vez durante el año. Vamos a ver lo que pasa esta semana sin la señal frente a mi casa.
Este viernes, Alex, Maureen y yo vamos a Cuba durante cinco días. ¡Estamos emocionados!
Este verano, Sarah va a Maryland con sus hijos para visitar a su familia. Más tarde, ella se convertirá en una abuelastra porque el hijo de su marido (de otro matrimonio) tendrá un hijo. En un año más, Sarah espera que pueda viajar a México con sus hijos durante las vacaciones.
En junio, Kayla vivirá en Ecuador durante dos años. Inicialmente, hará trabajo misionero con su iglesia. Por eso, ella quiere practicar hablar español muchísimo durante los próximos seis meses.
Hablamos un poco sobre el desayuno. A Sarah le gustan los gofres sin nada. A sus hijos, por supuesto, les gustan los gofres con mucho sirope. A Kayla no le gustan los gofres sino los crepés.
[Notes proofread by VegaText of fiverr.com]