Palabras nuevas:
the decoy – el señuelo
to divert – desviar
the oracle – el oráculo
the invoice – la factura
mental health – la salud mental
the barman – el barman
the psychologist = el psicólogo / la psicóloga
unfriendly – antipático / antipática
cross country skiing – esquí de fondo
the donation – la donación
the grant – la subvención
to stamp – sellar (like to seal), estampar (like to impress), timbrar (like to postmark)
Hoy vinieron Felix, Matt, Nora, Mel, Katie, Jerry, Julie, Alex, Lisa, Sarah, Corrina, Lexi, Manuel y E (yo).
Gracias a todos por venir. No somos nada sin ustedes!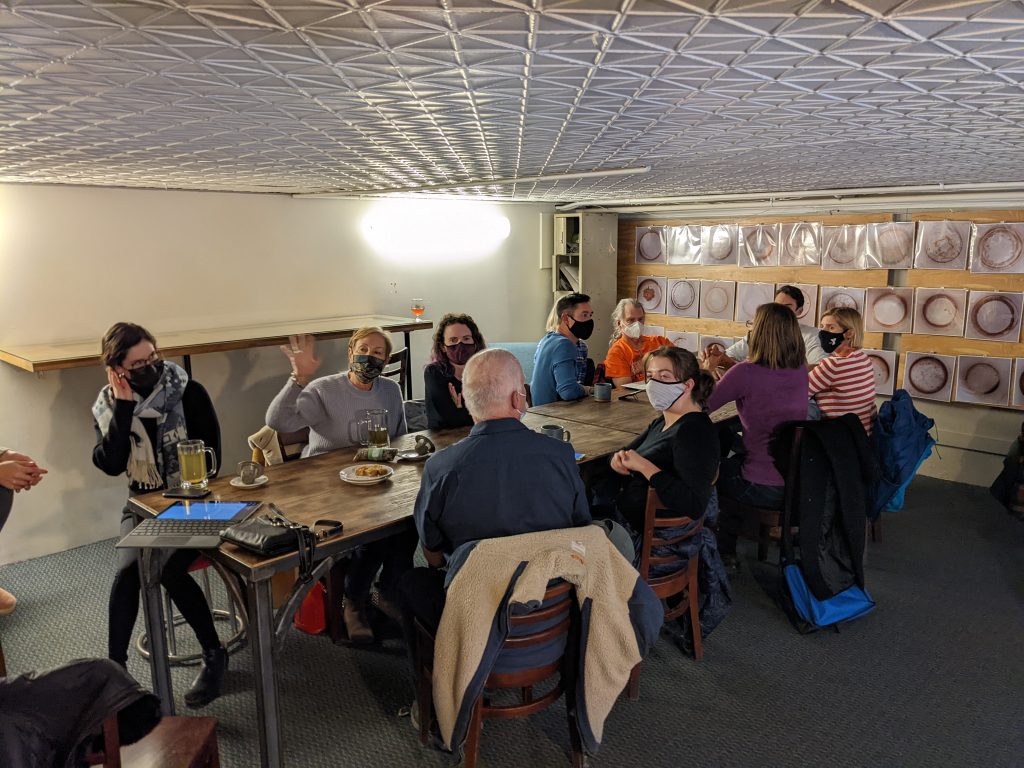 Nora va a visitar a un amigo de la universidad en Chicago y visitará a su familia en Boston durante las vacciones. Corrió la carrera Sweaty Sweater durante el fin de semana pasado.
Mel compartió con nosotros los vientos muy fuertes sobre las montañas recientemente: Mas que 100 MPH! Y terminó su marco de fotos de su viaje para ver osos polares.
Alex se va a Ecuador por dos semanas para acampar y conducir con su novia y otros amigos de Connecticut.
¡Sarah también corrió la carrera Sweaty Sweater durante el fin de semana!
En la cena del domingo, mencioné el efecto McGurk y hablamos de ello nuevamente aquí. Un video del BBC y un increíble discusión en "Frontiers in Psychology".
A Lexi le encanta ama su nuevo puesto como trabajadora social. Irá a Texas para visitar a la familia de su esposo y luego visitará a su familia en San Diego durante las vacaciones.
Corrina va a ir a visitar a su familia en Michigan durante las vacciones.
Como siempre, agradezco a Manuel por corregir mi español.
Aviso Importante:
The county requires mask wearing indoors. We will need to respect this county directive during our 5:30pm – 7:00 pm Monday meetings at The Bean Cycle. Thank you for observing this.
Si no quiere ser incluido en las notas y/o las fotos, por favor dígaselo a E.