Palabras nuevas:
the ornaments – los adornos
to surf – surfear
the cover letter – la carta de presentación
the little kids – los chiquillos
a house call – una visita a domicilio
the stage – el escenario
to fail – fallar
something to do with – algo que ver con
Hoy vinieron Felix, Andrea, Jerry, Julie (la hermana de Jerry), Lauren, Katie, Nora, Mel, Olivia, Brian (nuevo), Lexi, Manuel, Mike, Guillermo (el amigo de Mike), Corrina y E (yo).
Muchas gracias a todos para venir. Eres nuestro grupo! Y bienvenidos a nuestros miembros nuevos: Brian, Julie y Guillermo!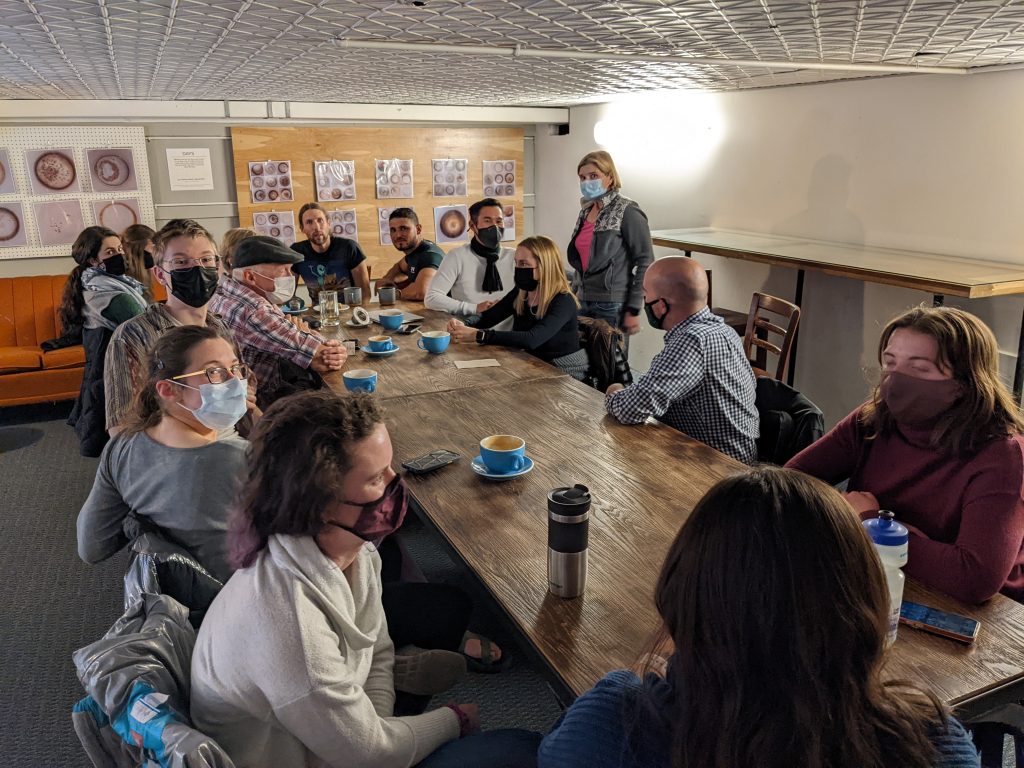 Jerry fue a cazar ciervos con su nieta la semana pasada.
Andrea y Felix regresaron de su viaje a California, Nevada, y Arizona el pasado jueves. Fueron al Gran Cañón y Las Vegas, y visitaron a los padres de Felix.
Andrea nos dijo que hoy es un día especial en España: Día de la Constitución. Se celebra cuando España aprobó la constitución en 1978 tras el régimen fascista de Franco.

Katie y sus compañeras de cuarto obtuvieron su árbol de Navidad el fin de semana pasado y lo decoraron. Ella lo llama árbol de Charlie Brown por todas sus agujas.

Mel corrió un maratón en Tucson. Se fue el jueves y regresó muy tarde el sábado. Tuvo una entrevista de trabajo mientras viajaba, así que se llevó una "camisa de vestir" para la llamada de Zoom.

Brian, un miembro nuevo, está en grado 11 en FCHS. ¡Ha estado estudiando español desde que estaba en intantil!

Guillermo, un nuevo miembro y amigo de Mike, ha estado en Fort Collins durante tres años y trabaja en construcción. Tiene tres hijos, uno en Guatemala y dos aquí en Estados Unidos con su esposa.

¡Olivia consiguió un trabajo como profesora de español en Wellington! ¡Felicitaciones a Olivia!

Corinna fue a Turmeric por primera vez y compró muchas especias. Fue al parque nacional a talar un árbol de Navidad. ¡Nos mostró una foto y es muy grande!
Como siempre, agradezco a Manuel por corregir mi español.
Aviso Importante:
The county requires mask wearing indoors. We will need to respect this county directive during our 5:30pm – 7:00 pm Monday meetings at The Bean Cycle. Thank you for observing this.
Si no quiere ser incluido en las notas y/o las fotos, por favor dígaselo a E.