Palabras nuevas:
the lentil – la lenteja
the grape leaves – las hojas de uva
the baby steps – los pequeños pasos
the hummus – el hummus
the ballroom – el salón de baile
the ballroom dance – el baile de salón
the gluten – el gluten
dry cleaning – limpieza en seco
the slippers – las zapatillas
traction – tracción
the barefoot – el descalzo
snowshoeing – raquetas de nieve
the layers – las capas
to distract – distraer
the flashback – la escena retrospectiva
miraculous – milagroso
Hoy vinieron Katie, Jenna, Elena (nueva, amiga de Elena y Claudia), Olivia, Mel, Lisa, Jerry, Matt, Claudia (nueva y amiga de Jenna y Elena), Michael y yo (E). Gracias a todos por venir! Bienvenida a nuestras miembras nuevas Elena y Claudia!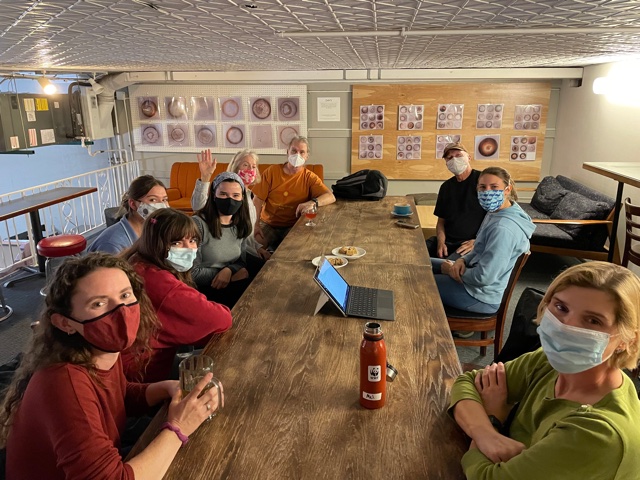 Katie fue a San Diego durante la semana y disfrutó comiendo y visitando la playa. Dijo que el clima de hoy es como el de San Diego. Katie también baila hip-hop y danza moderna.
Jenna celebró su cumpleaños la semana pasada. Comió mucha comida siria y comió en Himalayan Bistro. No le gusta andar con raquetas de nieve.
Un día de Acción de Gracias, la familia de Olivia comió cangrejo en lugar de pavo.
Elena toca el trombón y el piano, juega al fútbol y baila tap. ¡Guau!
Mel durmió en su casa por primera vez en más de una semana después de cuidar perros.
Matt trajo "A First Full of Dollars", una película en navajo, para mostrárnosla. Ha jugado al didgeridoo durante muchos años.
Bromeamos sobre la "noche de cine" de anoche cuando la gente nos preguntó al respecto. Vinimos cinco pero no vimos la película. Comimos tacos de pollo y hablamos hasta bien entrada la noche.
Mel correrá un maratón en Kansas este fin de semana, ¡su estado número 39!
Jerry nos presentó al grupo de rock mexicano "Maná".
Michael llevaba una camiseta interesante hoy. Es de un videojuego llamado "Hill Climb Racing".
Las notas de esta semana fueron "corregidas" por computadora y tendrán errores asociados con esa metodología.
Aviso Importante:
The county requires mask wearing indoors. We will need to respect this county directive during our 5:30pm – 7:00 pm Monday meetings at The Bean Cycle. Thank you for observing this.
Si no quiere ser incluido en las notas y/o las fotos, por favor dígaselo a E.