Palabras nuevas:
the sand dune – la duna de arena
the greenhouse – el invernadero
to prune (as in plants) – podar
the sigh – el suspiro
the harness – el arnés
the antonym – el antónimo
to sauté – saltear
Hoy vinieron Matt, Lauren (nueva), Michael (segundo vez), Felix, Andrea, Mel, Katie, Lisa, Jerry, Olivia, Mitch y E (yo).
Gracias a todos por venir. ¡Ustedes son los que nos hacen quienes somos! Y bienvenida a nuestra miembra nueva: Lauren.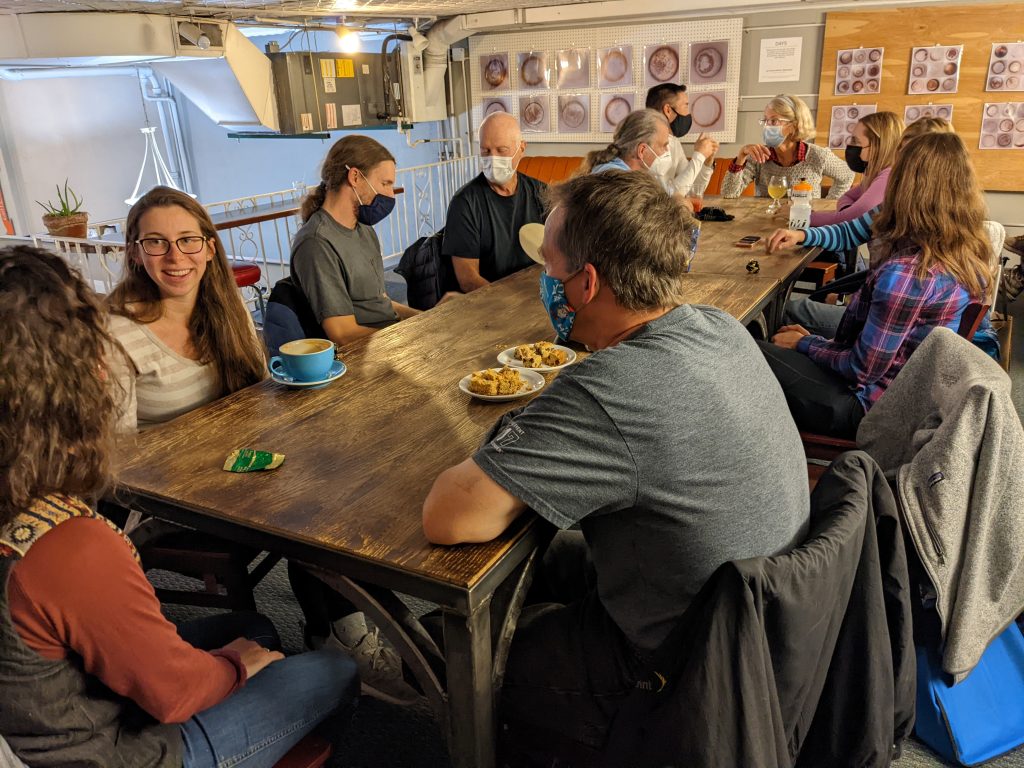 Lauren aprendió español en la escuela secundaria, pasó un semestre en España. Nació aquí y fue a la escuela en Ridgeview, luego a Iowa para la licenciatura y finalmente a Nebraska para la escuela de posgrado. Es una enfermera anestesista.
Mel ha estado cuidando perros durante más de una semana. Celebrará el Día de Acción de Gracias con la familia de su madre y su hermano y, por supuesto, con los perros.
Felix nos trajo bombones de Mercadona (una cadena de España). Se fue de excursión a Duncan Ridge, Arthur's Rock y condujo alrededor de Horsetooth con su novia Andrea.
Jerry fue a Fruita a visitar a sus nietos. Planea limpiar la casa y pintar un poco este fin de semana largo.
Michael conoció a su amigo de Guatemala en el gimnasio cuando estaban levantando pesas. Michael va a Golden Corral con la familia de su esposa para el Día de Acción de Gracias. Es dueño de un negocio de reparación de computadoras.
Mitch estuvo una vez en Toulouse por trabajo y quería visitar España. Así que fue a Granada y Sevilla y pasó dos días en cada ciudad. El perro de Mitch se rompió un diente recientemente. Fue al veterinario, pero cuando lo anestesiaron, se puso taquicárdico, por lo que tuvieron que detener el procedimiento. Esperamos que su perro se sienta cómodo pronto.
Olivia irá a esquiar con su hermano a A-Basin mañana. Ella celebrará el Día de Acción de Gracias con su familia aquí en Fort Collins.
Este domingo es el último domingo del mes, ¡así que es La Noche de Película!
Las notas de esta semana fueron "corregidas" por computadora y tendrán errores asociados con esa metodología.
Aviso Importante:
The county requires mask wearing indoors. We will need to respect this county directive during our 5:30pm – 7:00 pm Monday meetings at The Bean Cycle. Thank you for observing this.
Si no quiere ser incluido en las notas y/o las fotos, por favor dígaselo a E.