Palabras intersantes:
trapear – to mop
el blanqueador (Colombia, México), la lejía (España), el cloro ((Venezuela, Chile, Honduras) – the bleach
el cloro – the chlorine
el alternador – the alternator
deslizarse – to slide
Hoy vinieron Jonathon (nuevo), Matt, Lisa, Jerry, Sarah, John (u su perro Cherokee), Richard, Katie, Taryn, Sal, Manuel, Jacob y yo ("E", el lider del grupo).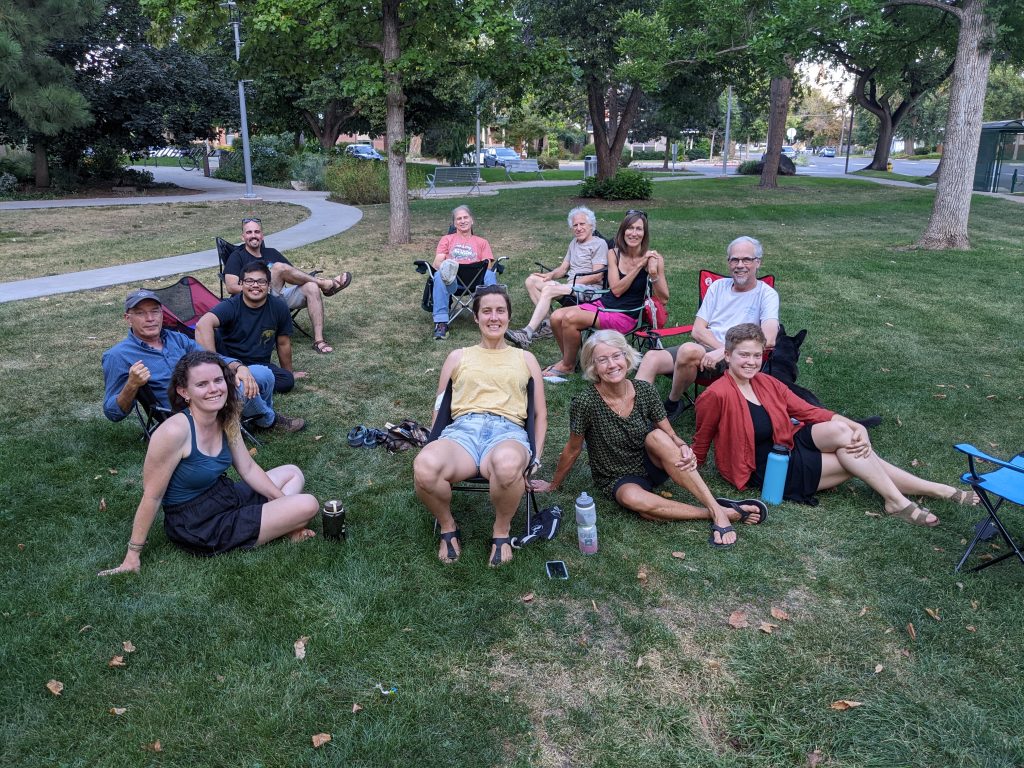 ¡Gracias por formar el grupo! Que amables, estas personas.
¡Matt ahora habla 13 idiomas! Empezó a aprender portugués.
La hermana de Lisa vino de visita el fin de semana pasado. Lisa planea jubilarse (¡por tercera vez!) para poder pasar más tiempo con su nieta y viajar más, leer y jugar más pickleball. Me asegura que no se retirará por cuarta vez.
Richard estaba trabajando en su laboratorio de química la semana pasada y estaba sintetizando los tioles químicos. Leyó mal las instrucciones, que decían usar 4000 RPM en la centrífugadora, pero lo leyó como 4000 g. Así que hizo girar la centrifugadoral un tercio más rápido de lo que debería. La configuración se rompió porque giró demasiado rápido, arrojando el fluído por todas partes en el laboratorio. Olía a mofeta y le arruinó los calcetines. Le tomó dos días limpiar el laboratorio.
Sarah también está aprendiendo portugués porque tiene un nuevo alumno de 6 años que solo habla portugués. Como Sarah visitará Portugal el próximo año, el momento para ella es perfecto. Está muy emocionada de aprender un tercer idioma. Ella también escaló su primer 14'er el fin de semana pasado: Mt. Bierstadt.
Jonathon (nuevo) también puede hablar francés y hebreo. Ha vivido en Albuquerque y Santa Fe, que es donde comenzó a aprender español. Su madre vive en Tel Aviv y le hablaba exclusivamente en hebreo cuando era niño.
John asistió por última vez al grupo hace más de 3 años. ¡Nos alegra que esté planeando venir otra vez!
Viktoria, una amiga de Richard del baile de salsa, estaba paseando a su perro en el parque, así que pasó a hablar con nosotros. Su madre es de Chile y su padre es de Colombia. Su perro también ladra en español. ¡Ja ja!
Como siempre, agradezco a Manuel, nuestro maravilloso hablante nativo de español, por corregir los apuntes en español.
Si no quiere ser incluido en las notas y/o las fotos, por favor dígaselo a "E" (yo, el lider del grupo).