Hoy vinieron Kathleen (nueva), Emily (nueva), Matt, Jonathan, Felix, Amelia, Kyle, Ellie, Mitch, Sarah, Eric, Nicole, Samuel, Samuel 2, Addy, Christine y "E" (yo, el líder del grupo).
Palabras interesantes:
el venado – the venison
el ciervo – the deer
las/los esclavas/os – the slaves
la capa – the layer
el acle – the moose
arrogante – arrogant
Frase interesante:
"no hemos dicho ni pío" – "we haven't said a peep"
Sarah está planeando un viaje a España y Portugal el próximo verano. Al investigar tarifas aéreas para otros viajes, descubrió que hoy en día es muy caro volar a Columbia. Sarah y yo ("E") hablamos sobre la mejor manera de maximizar los viajes al supermercado de Esh's buscando alimentos saludables.
Jonathan y yo ("E") tenemos exactamente la misma chaqueta (no se muestra en la imagen de arriba). Compré el mío en Kohl's hace varios años por menos de $10 y Jonathan también consiguió una buena oferta.
Samuel 2 está emocionado de comenzar a estudiar para ser enfermero, así que fue genial conocer a Eric hoy.
Hablando de Eric, ¡él y su esposa Carley completaron un recorrido en bicicleta de 76 millas hace dos semanas en 5 horas! La "Salida 76" carrera. ¡Eric también escala rocas!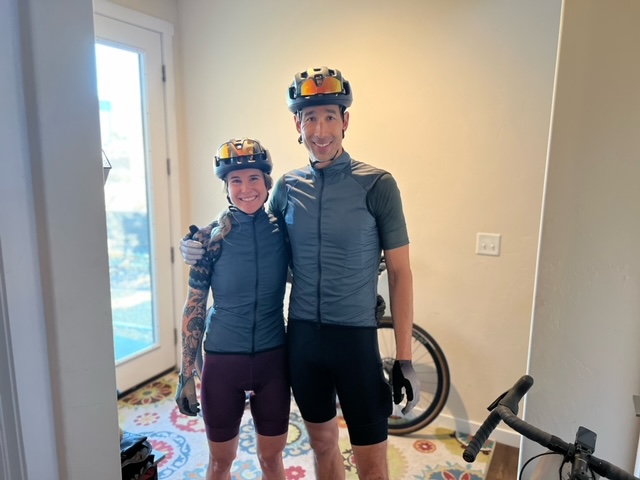 Yo ("E") no tuve la oportunidad de hablar con nuestras nuevas miembras, Kathleen y Emily, hoy. ¡Pero bienvenido al grupo! Nos alegra que hayas venido.
Las notas de esta semana fueron "corregidas" por computadora y tendrán errores asociados con esa metodología.
Si no quiere ser incluido en las notas y/o las fotos, por favor dígaselo a "E" (yo, el líder del grupo).