Hoy vinieron Jerry, Karla, Emily, Jennifer, Kyle, Mel, Felix, John, Aaron (nuevo), Thomas (nuevo), Angela, Nicole, Addy, Scott, Mitch, Samuel 2, Christine y "E" (yo, el líder del grupo).
Palabras interesantes:
la/el electrista/o – the electrician
la junta escolar – the school board
el pronóstico – the prognosis
la época – the epoch
la lactosa – the lactose
bolas de algodón – the cotton balls
la paja – the straw
contratar – to hire
al vapor – to steam
el planeador – the glider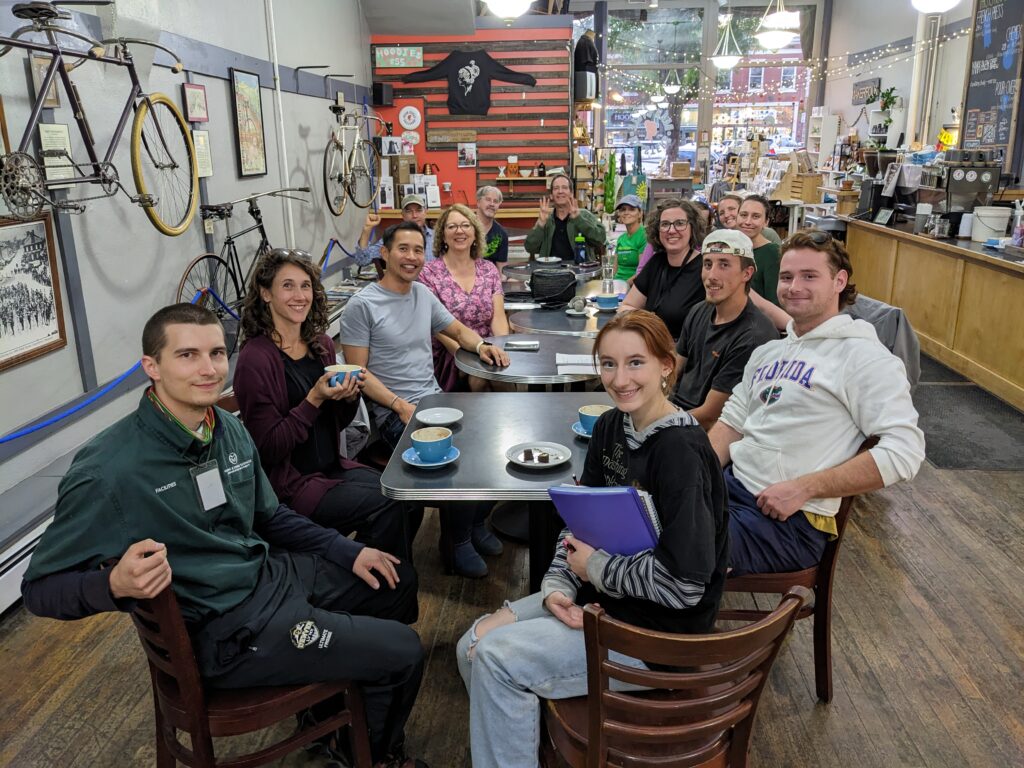 Jennifer tuvo unas vacaciones increíbles en España y Marruecos. No pude hablar mucho con ella sobre eso. Contrató un guía en ambos lugares e hizo mucha escalada y caminatas.
Emily regresó por segunda vez al grupo. Tiene 3 hijos. Un par de gemelos idénticos de 4 años y un niño de 2 años. Ella es terapeuta ocupacional pediátrica.
Katie obtuvo su doctorado la semana pasada y dentro de dos semanas comenzará un nuevo trabajo en el área de Denver. ¡Felicidades Katie! ¡Qué gran logro!
Karla y Scott pronto irán a la boda de uno de los estudiantes de Karla en Estes Park. También recibieron la visita de su suegra recientemente. La llevaron a Estes Park y Old Town.
Thomas se une a nosotros por primera vez hoy. ¡Bienvenido! Él es de Florida y está aquí para apoyar a su novia durante sus estudios de Negocios en CSU. Ella es de Chile, por lo que él tiene un recurso increíble para ayudarlo a aprender sus ya increíbles habilidades en español.
Las notas de esta semana fueron "corregidas" por computadora y tendrán errores asociados con esa metodología.
Si no quiere ser incluido en las notas y/o las fotos, por favor dígaselo a "E" (yo, el líder del grupo).