We meet every Monday evening from 5:30-7:00 P.M. at The Bean Cycle in Old Town Fort Collins.
The Bean Cycle is located at 144 N. College Avenue, 80524:
View Larger Map
We usually meet upstairs or, if no tables are available, downstairs in the café. We love The Bean Cycle due to the bike theme, featured artwork, spaciousness, and friendly staff. Please help them love us back by, for example, purchasing a drink.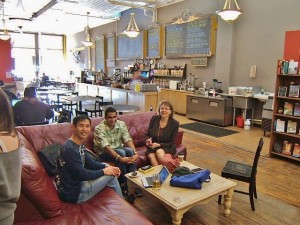 Everyone is welcome to join regardless of Spanish-speaking ability. We usually do not have a set agenda and just talk about whatever comes to mind. The only ground rule is that you try to speak mostly in Spanish. (Spanglish is fine for beginners; we will help you!)
See our blog for meeting notes.
¡Gracias y nos veamos pronto!