Palabras intersantes:
el marketing – the marketing
la consultoría – the consulting
filmar – to film
Hoy vinieron Vidya, Alyssa, Shannon, Matt, Matt 2, Jerry, Katie, Jonathan, Karla, Scott, Gayla, Anne Marie, Lisa, Jennifer, Manuel, Hannah y "E" (yo, el lider del grupo).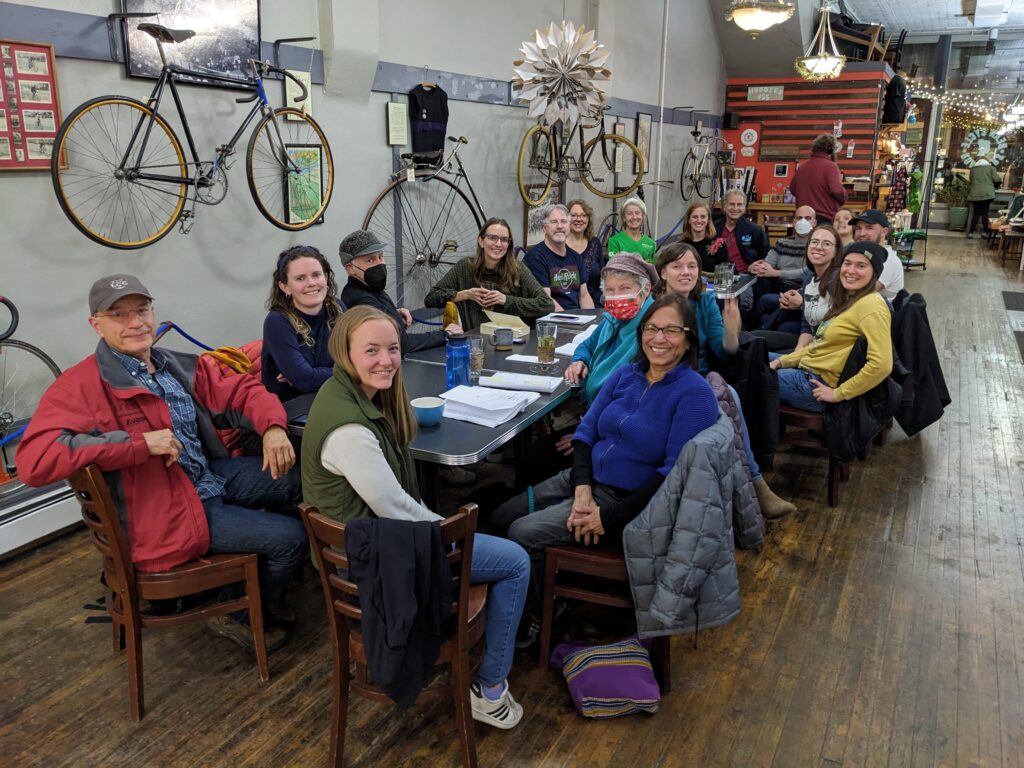 Gracias a todos por apoyar Bean Cycle, nuestro fantástico negocio local que nos brinda nuestro espacio de reunión.
Matt 2 (el segundo vez con el grupo) aprende español en línea. Tiene una biblioteca personal en casa porque le encanta leer. Tiene dos hijas pequeñas, le encanta tocar la guitarra, estudia filosofía en la licenciatura y ahora es abogado de lesiones personales.
Shannon regresó a San Diego con su novio para el Día de Acción de Gracias. Está emocionada de quedarse en casa durante las vacaciones de invierno para poder relajarse antes de que comience su próximo semestre de enseñanza.
Anne Marie regresó al grupo después de su lista de visitas en el verano cuando nos reuníamos en Library Park. Ella y Tyler viajarán a San Diego durante las vacaciones de invierno para ver a su familia. ¡Ambos se graduaron recientemente con una maestría en escritura! ¡Felicidades! Anne Marie ha comenzado un nuevo trabajo en Marketing. Tyler ha estado disfrutando de sus dos nuevos trabajos, cada uno de los cuales es de medio tiempo.
Aunque Karla ha estado viniendo al grupo quizás 3 veces más que yo, ¡en realidad no hemos hablado mucho! Finalmente tuve la oportunidad de entrevistarla, jaja. Ella es de La Junta, CO. Solía ser psicóloga practicante y ha estado enseñando en CSU por más de 20 años. ¡Se jubila a fin de mes y ella y Scott planean viajar mucho! De hecho, han estado viendo mucha televisión en español para prepararse para sus viajes.
¡Taryn y su esposo construyeron estantes flotantes! Con un nombre como ese, pensé que estarían en una piscina. 🙂
Las notas de esta semana fueron "corregidas" por computadora y tendrán errores asociados con esa metodología.
Si no quiere ser incluido en las notas y/o las fotos, por favor dígaselo a "E" (yo, el lider del grupo).