Palabras nuevas:
the linguist – el lingüístico/la lingüística
to sweat – sudar
the winery – el lagar
to carry out (e.g., food) – para llevar
to polish – pulir
to speak fluently – hablar con fluidez
the bully – el abusador/la abusadora
to bully – acosar
the board game – el juego de mesa
to proofread – revisar/leer el borrador
challenges – los retos
the comorbidity – la comorbilidad
passionate – apasionado/a
the ancestor – el antepasado/la antepasada
daylight savings time – el horario de verano
the public speaker – el orador público/la oradora pública
to beg – pedir limosna
Hoy vinieron Matt, Tony (Señor Espinoza), Lisa (segunda vez), Gayle (segunda vez), Olivia, Matt, Mitch, Nora, Manuel y yo (E).
Hoy fue un día muy, muy especial para mi. Mi queridísimo maestro de Español de la escuela secundaria vino a nuestro grupo! El Señor (Tony) Espinoza. Él es una institución en nuestra comunidad y una persona con un gran corazón. Cuando se jubiló, el periódico escribió un articulo sobre su impacto. El ganó un premio de la ciudad, fue galardonado durante la pandemia por su trabajo que ha tenido desde que era estudiante universitario. Es imposible compartir todas en las formas en las que él es una parte tan importante de nuestra comunidad. Estoy tan feliz que el vino y espero que pueda venir en mas ocasiones.
¡Haces nuestro grupo lo que es! Gracias por venir. Que chistoso que cuando tomé esta foto, por la casualidad, había tres personas usando los móviles.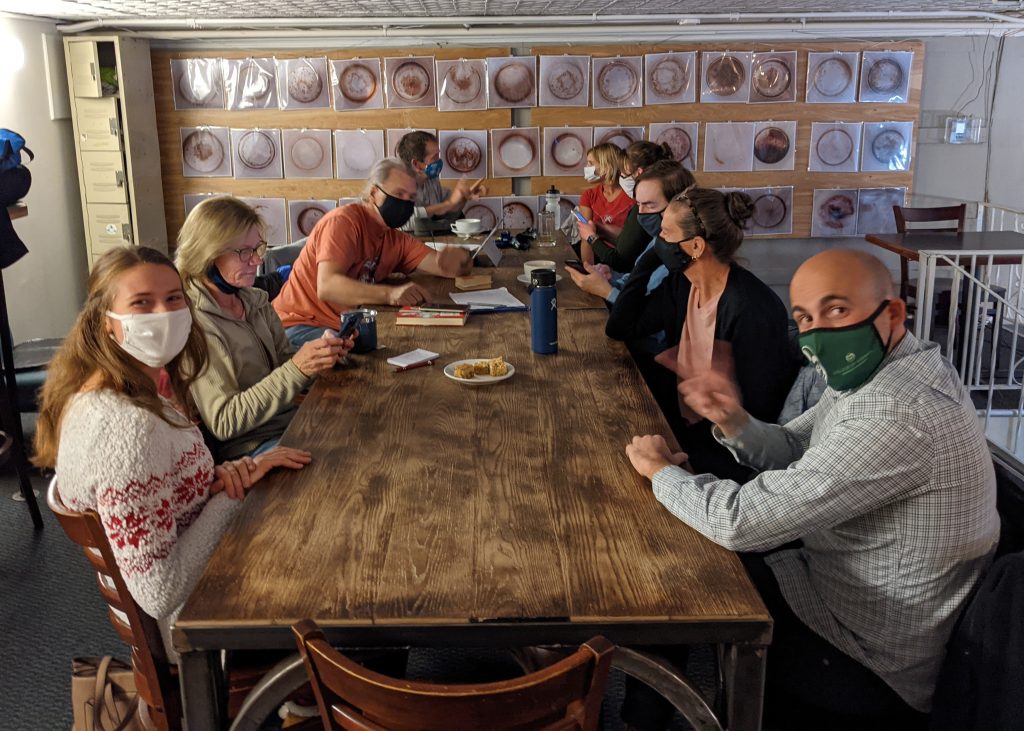 Mel corrió dos maratones durante el fin de semana pasado, uno en Huntington, WV y el otro en Indianapolis, IN. Corrió en 38 de 50 de los estados ahora! Increíble. Felicidades a Mel. Ella voló a Columbus, OH y condujo a sus maratones. Corrió en el estadio de Marshall University con una pelota de fútbol americano. También tuvo vino de Indiana por primera vez.
El Señor Espinoza, mi querido maestro, nos dijo que sus abuelos, bisabuelos y tatarabuelos eran de New Mexico. En sus clases, nos dijo muchas historias sobre su abuela. Son un total de ocho hermanos y hermanas. Cuatro de sus hermanos son maestros también. Recuerda en cual fila me sentaba. Tiene una memoria increíble porque nos dijo que ha tenido casi seis mil estudiantes. No me puedo imaginar cuántas vidas ha impactado de una manera tan significativa!
Matt nos dijo la historia de los Navajo Code Talkers y nos presentó la noción de "bully language".
Mitch habló sobre una tienda en Mexico que visitó que hace anacardos cubiertos en chocolate. Su hermano vive en el parte de Indiana que no observa el horario de verano. Entonces, su zona horaria es la misma que la de Illinois y luego, cuando la cambie nuevamente, es la misma que la de Ohio.
Nora vivió en el sur de Uruguay cerca de la frontera de Brazil. La gente allá aprende portugués como su primer idioma.
Lo siento no hablé con Lisa, Gayle, Olivia o Manuel.
Como siempre, agradezco a Manuel por corregir mi español. No podría escribir las notas correctamente sin él.
Aviso Importante:
The county requires mask wearing indoors. We will need to respect this county directive during our meetings at The Bean Cycle. Thank you for observing this.
Si no quiere ser incluido en las notas y/o las fotos, por favor dígaselo a E.