Palabras interesantes:
lidiar – to grapple
ahogarse – to choke
el/la millenial – the millennial
la pandilla – the gang
la orientación – the orientation
las dunas – the sand dunes
los fosiles – the fossils
las huellas – the footprints
el tallo – the stem
Hoy vinieron Jerry, Justin (nuevo), Taryn, Richard, Jacob y "E" (yo, el lider del grupo).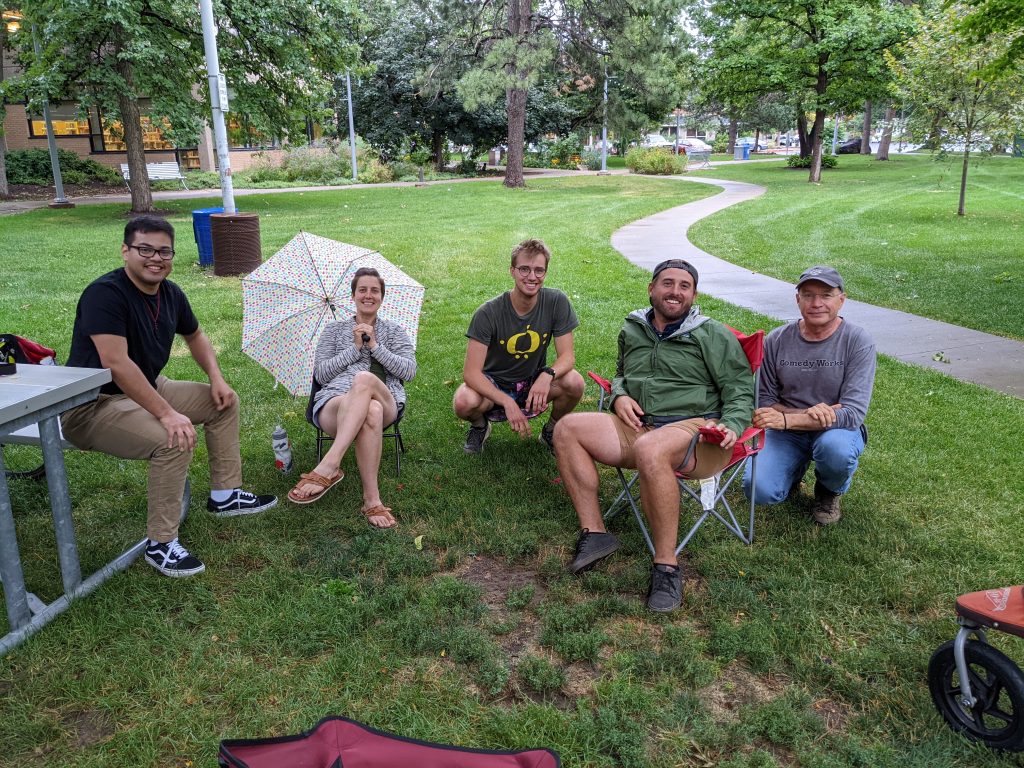 Gracias para formar nuestro grupo, especialmente después de la lluvia del día.
El tiempo estuvo bastante lluvioso antes, por lo que solo vinieron unas pocas personas y una gran cantidad de mosquitos. Pero estuvo bastante agradable cuando llegó el momento de reunirse.
Jerry es amigo de Mitch. Se conocieron cuando Jerry fue a un AirBNB. Él estaba en la casa del vecino de Mitch. Jerry es de Puerto Rico y trabaja como ingeniero eléctrico. Se mudó al área en 1988 y tiene tres hijos. Inicialmente asistió a CSU para hacer una maestría en ingeniería eléctrica, pero cambió a estudiar negocios para aprender mas inglés. Jerry dice que es difícil usar el español puertorriqueño en México porque es muy diferente.
Justin (nuevo) estudió español durante 3 años en la escuela secundaria. Él y su esposa visitaron Guatemala durante 5 meses a principios de este año. Son los dueños de Starry Night, uno de mis lugares favoritos ("E") en Fort Collins. Compraron la cafetería hace seis años.
Taryn va a tomar un curso de español en línea muy pronto.
Jacob y Richard tienen orientación para estudiantes graduados esta semana. La próxima semana comienzan sus clases.
Como siempre, agradezco a Manuel, nuestro maravilloso hablante nativo de español, por corregir los apuntes en español.
Si no quiere ser incluido en las notas y/o las fotos, por favor dígaselo a "E" (yo, el lider del grupo).