Hoy no pude ir al grupo ("E", el lider del grupo), entonces Katie amablemente se ofreció a ser nuestra líder invitada. Aquí están sus notas. Gracias Katie por ser la líder del grupo en nuestro último día en Library Park para 2022.
Vocabulario relevante:
Elk – uapití o ciervo canadiense
To have a cold (adjective) – constipado
Golf course – Campo de golf
Hole (as in golf) – hoyo
Particle accelerators – aceleradores de partículas
To bounce – rebotar
Smiling (adjective) – risueño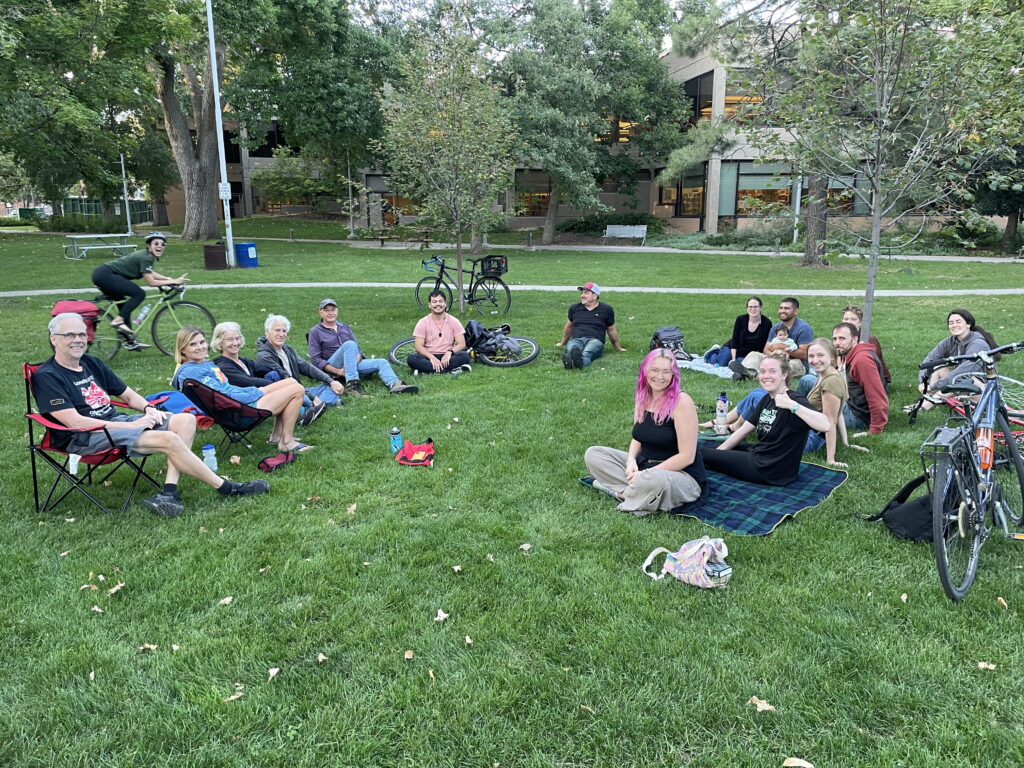 Tuvimos una reunión fantástica hoy en el parque de la biblioteca. Vinieron Theresa, Hector, Viviana, John, Meghan, Richard, Jerry, Robin (nueva), Justin, Mel, Rose (nueva), Jonathan, Alberto, Sal, Corrina, Rhubarb (la perra lindísima), Manuel, Taryn, y yo, Katie (la líder sustituta porque "E" no estaba allá).
Muchas personas hicieron caminatas el fin de semana. Meghan fue a Lory State Park, Rose fue a Rocky Mountain National Park, y Alberto caminó por el sendero de Lake Agnes. Discutimos los ruidos raros que hacen los uapitís en las montañas durante el otoño.
Hector y Theresa asistieron una barbacoa en Denver durante el fin de y Lisa fue al último partido de los CO Rockies en Denver también.
John y Jonathan recibieron sus vacunas de COVID y no se sintieron muy mal. Además, John y Mel jugaron golf y discutían los campos de golf. A Mel le gusta Cattail porque es barato y solo tiene nueve hoyos.
Todo va bien con los experimentos químicos de Richard y Jerry nos contó todo sobre un laboratorio suiza (se llama CERN) que tiene aceleradores de partículas.
¡Fue una tarde interesante!
Gracias a Katie!
Como siempre, agradezco a Manuel, nuestro maravilloso hablante nativo de español, por corregir los apuntes en español.
Si no quiere ser incluido en las notas y/o las fotos, por favor dígaselo a "E" (yo, el lider del grupo).