Palabras interesantes:
el certificado de nacimiento – the birth certificate
dar una serenata – to serenade
el recurso – the resource
la mostaza – the mustard
el pavo real – the peacock
la ciruela – the plum
el despecho – the spite
la fecha límite – the deadline
el comité – the committee
el tramo de un vuelo – the leg of a flight
Hoy vinieron Matt, Jonathan, Taryn, Christine, Sarah, Ellie, Jennifer, Lexi y "E" (yo, el lider del grupo).
Taryn celebró la Navidad por segunda vez con su cuñado unos días después de Navidad. Llamaron a ese día "Mythmas" en inglés ya que no era el verdadero día de Navidad. ¡Jajaja!
Hablamos de la tradición que muchos judíos observan: Comer comida china en Navidad. Aunque la razón real para hacerlo parece perdida en la historia, una hipótesis es que los restaurantes asiáticos abren con mayor frecuencia en Navidad.
¡El cumpleaños de Jonathan es esta semana! Tendrá una gran videoconferencia con su familia y estará celebrando en el restaurante Himalyan Bistro. Si bien será su primera vez en el restaurante, yo ("E", el líder del grupo) he estado allí muchas veces y me gusta especialmente la sopa dahl.
Félix, el jefe original del grupo, estuvo en la ciudad…dos veces. No llegó al grupo el día 19 porque perdió su vuelo de conexión a Denver después de aterrizar desde Madrid. No pudo venir al grupo el día 26 porque se quedó atrapado en California debido a los retrasos climáticos que enfrentaban las aerolíneas. Al final, tuvo que alquilar un automóvil y conducir 30 horas desde California para regresar a Fort Collins. Luego, solo tuvo unos días para hacer todas las cosas que quería hacer antes de tener que despertarse para que lo recogieran a las 3 a.m. para su viaje al aeropuerto temprano esta mañana. Pero, la hora de recogida se cambió a las 2 a. m., por lo que solo tuvo 30 segundos para empacar y subir al autobús. ¡Qué viaje!
Jonathan escribió la letra de una canción en español que le gustaba. ¡Así que él y Matt nos dieron una serenata cantando la canción!
Sarah trajo algunos juegos para compartir con el grupo. "Cluedo" ("Clue" en inglés) y un juego de cartas exclusivo de España.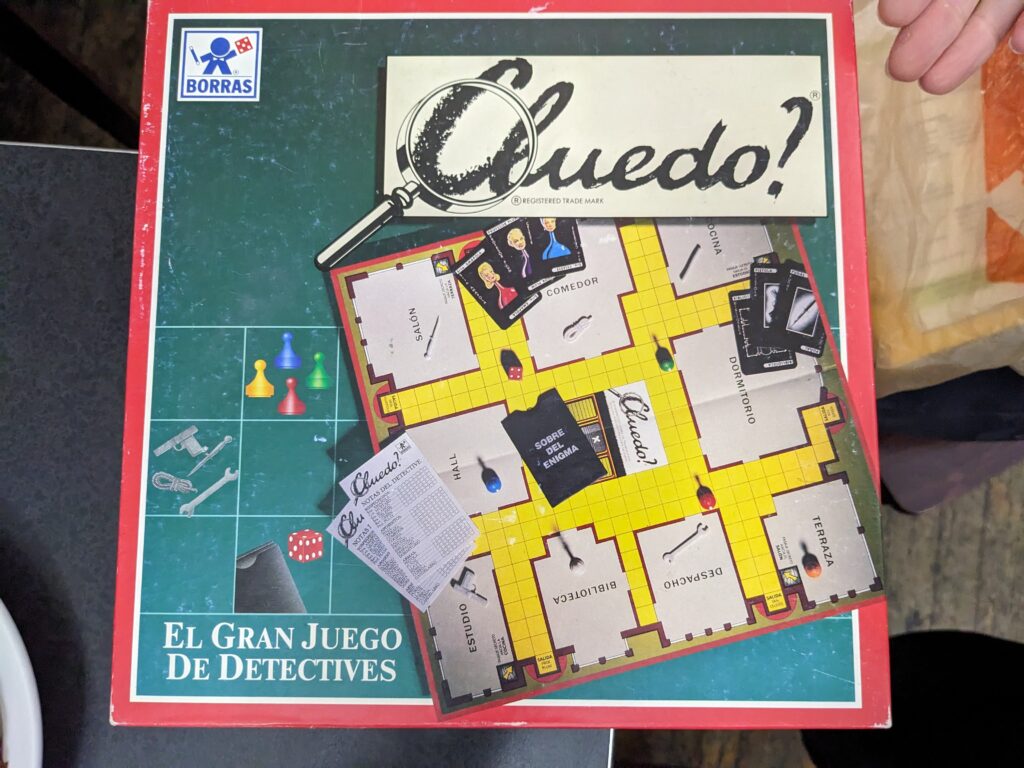 Las notas de esta semana fueron "corregidas" por computadora y tendrán errores asociados con esa metodología.
Si no quiere ser incluido en las notas y/o las fotos, por favor dígaselo a "E" (yo, el lider del grupo).