Hoy vinieron Eileen (nueva), Lisa, Shannon, Eric, Carolina (nueva), Annie, Julia, Megan, Andrew (nuevo), Richard, Jonathan, Zoe, Christina, Mel, Luigi y "E" (yo, el líder del grupo).
Palabras interesantes:
la gaviota – the seagull
la presa – the dam
descender – to sink
agricultura de subsistencia – subsistence farming
el bacalao – the cod
la langosta – the lobster
para reducir la velocidad – to slow down
apoyer – to support
la patrulla de esquí – the ski patrol
la piscina de marea – the tidal pool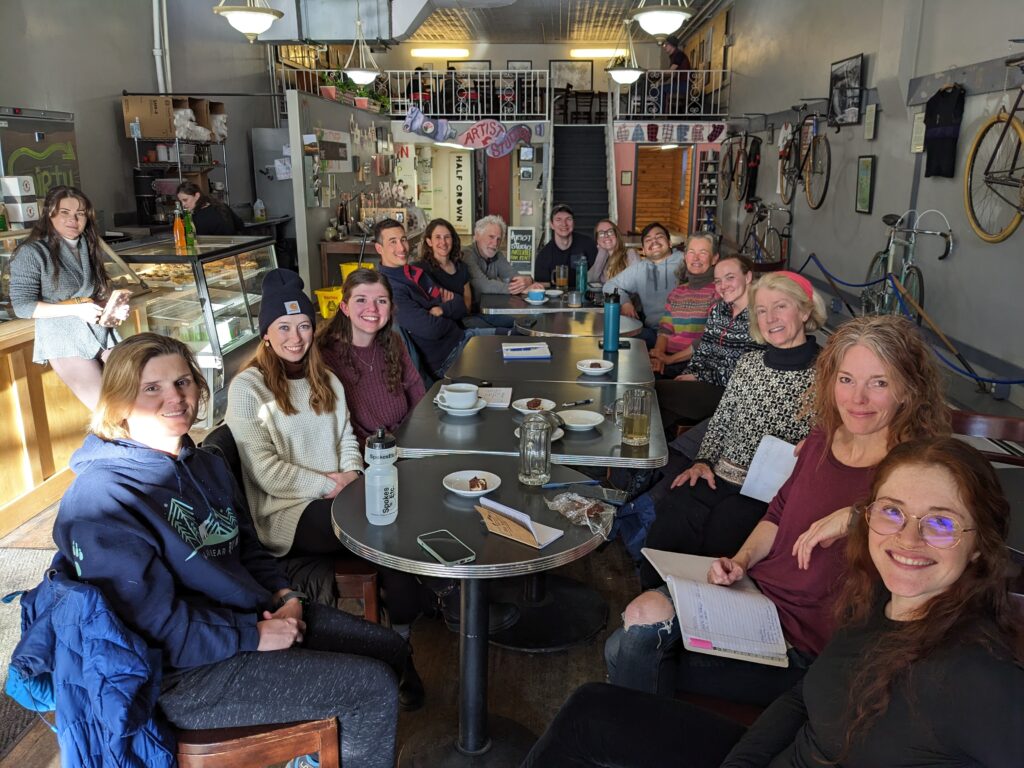 ¡Bienvenidos a nuestros tres nuevos miembros hoy, Eileen, Carolina y Andrew!
Richard se está preparando para este examen de calificación de doctorado, por lo que no tomará cursos este semestre. Solo está investigando y preparándose para su examen.
Andrew (nuevo y el novio de Megan) se unió al grupo hoy. ¡Bienvenido Andrés!
Christina llevó a su familia a California para las vacaciones de primavera. Llevaron a sus dos hijos a Disneyland, Long Beach y caminaron por Crystal Cove Park, donde vieron muchas piscinas de marea.
Carolina vivió en Bristol Bay, AK durante 38 años trabajando como bióloga. Dijo que 62 millones de salmones regresan a esa zona cada año para desovar.
Shannon también es entrenadora de atletismo después de la escuela, al igual que Olivia. Realmente lo disfruta a pesar de que hace que los días sean muy largos.
Lisa ofreció amablemente al grupo un par de entradas para un concierto de piano en el Lincoln Center. Mel le va a dar las entradas a su madre.
Las notas de esta semana fueron "corregidas" por computadora y tendrán errores asociados con esa metodología.
Si no quiere ser incluido en las notas y/o las fotos, por favor dígaselo a "E" (yo, el líder del grupo).