Hoy vinieron Nora, Alene y su hija, Carl y su madre Margarita, Matt, Jonathan, Francesca, Richard, Nicole, Mitch, Katie, Christine, Jennifer, Olivia, Albert y yo ("E", el líder del grupo).
Palabras interesantes:
el clavo –

the nail (

e.g.

, for wood)

el comienzo del sendero – the trailhead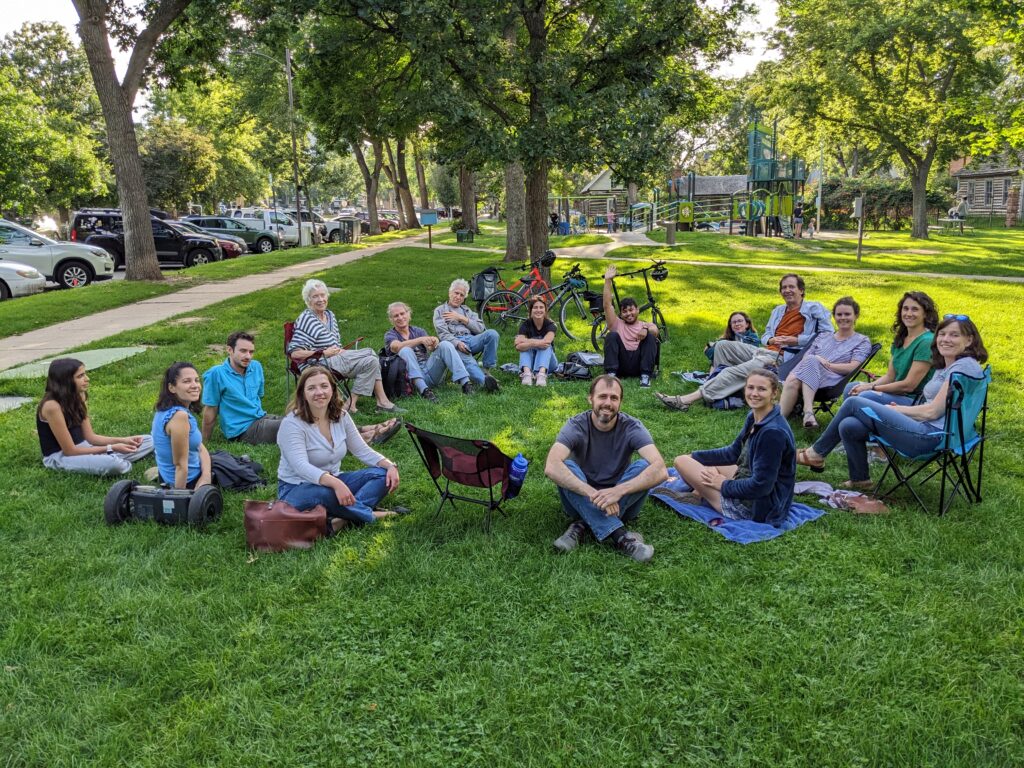 La madre de Carl, Margarita, está de visita desde Arizona, así que se unió a nosotros hoy. Fue profesora de español durante muchos años y ahora está jubilada. ¡Hace varios años, Carl también trajo a su papá a nuestro grupo!
En la nueva casa de Olivia apareció una gotera en el techo después de la gran tormenta del pasado lunes por la noche. Para comenzar a arreglarlo, los trabajadores tuvieron que hacer un gran agujero en el techo para acceder al área interior que estaba húmeda.
La semana pasada fue el sexto cumpleaños del hijo menor de Christine. ¡Estaba extremadamente emocionado de recibir algunas cartas de Pokémon muy especiales!
Matt está muy emocionado porque mañana recibe su nueva coche eléctrica. En octubre, instalará paneles solares en su casa. Le pregunté ("E", el líder del grupo) si podíamos tender un cable muy largo entre nuestra casa para poder obtener energía gratis, ¡jajaja!
Francesca es amiga de Richard y también está trabajando en su doctorado en el departamento de Química con Richard. Su novio es de España, por lo que tiene un recurso maravilloso para continuar mejorando sus ya excelentes habilidades en español.
Albert está en la ciudad nuevamente desde Seattle por unas semanas. Esta vez está visitando a sus amigos y no cuidando gatos.
Ambos estamos tristes y emocionados de que hoy sea probablemente el último día de Nora con nosotros. Fue aceptada en un programa de posgrado en escritura muy prestigioso en Michigan y se mudará allí la próxima semana. Echaremos de menos tenerla en el grupo, ¡pero estamos muy felices por su increíble oportunidad!
Las notas de esta semana fueron "corregidas" por computadora y tendrán errores asociados con esa metodología.
Si no quiere ser incluido en las notas y/o las fotos, por favor dígaselo a "E" (yo, el líder del grupo).