El vocabulario nuevo de día:
dar cera y pulir = to wax and polish
una despensa = pantry
rastas = dreadlocks
trenzar = to braid
las calles peatonales = the pedestrian streets
mellizos = twins (fraternal twins)
gemelos = identical twins (maternal twins)
el frigorífico (el frigo) = refrigerator
el pinchazo = the puncture
rumbo = in the direction of; on the way
el carenado = the fairing
el tatuaje = the tattoo
la manguera = the hose
zambullirse = to dive
distrayendo = distracting
En esta reunión había E, Manuel, Mary Louisa (Mary-Lou en inglés; su primera vez), Matt, Mercedes, Morgan, y yo (Félix). El café Bean Cycle cerró a las 15:00 hoy; por eso, nos reunimos en el café Starry Night.
El octubre pasado, Mercedes montó en bici por Córdoba, Granada, y Sevilla.
Mercedes mencionó que leyó un capitulo del libro Still Running: One Step At a Time por Libby James sobre mis aventuras de bicicleta a través de los Estados Unidos, como el Tour Divide y Trans Am Bike Race. Esto llevó una conversación sobre la Carrera a través de America (Race Across America, o RAAM en inglés) y el equipo de Matt y yo, Team Sea to See.
Este viernes, Matt va a la Nación de Navajo para asistir a una clase de inmersión de Navajo durante tres semanas. Nos enseñó que Navajo fue una código secreto durante la segunda guerra mundial. Dijo que es más difícil que mandarín.
Mary Louisa tiene dos mellizos se llaman Allen y Nathan. Ella va a la Ciudad de México la próxima semana.
Morgan va a regresar a Asheville la próxima semana para empezar investigaciones sobre la salud sexual de estudiantes. Hará las investigaciones con su profesora en la universidad de Warren Wilson, donde tiene un año más antes del fin de su bachillerato de psicología y español. Por eso, esta reunión fue su última vez con nuestro grupo de español durante este verano.
Después de la reunión, Manuel, Morgan y yo jugamos el billar en Trail Head Tavern. Solamente fue la tercera vez que Morgan jugó el billar; sin embargo, jugó bien. Aprende rápidamente.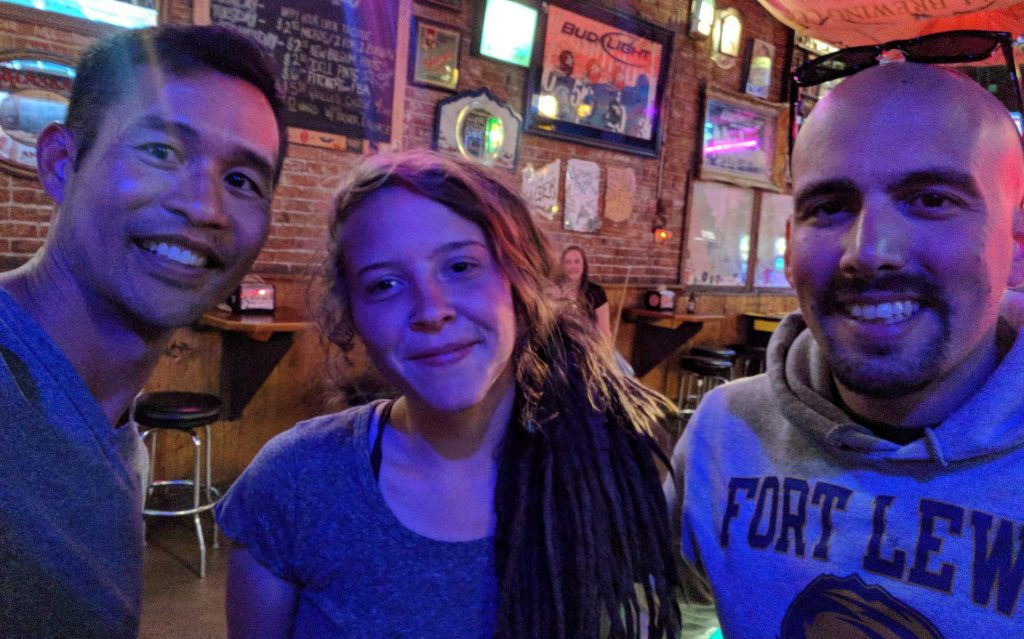 Espero que venga a visitarnos en diciembre después del semestre porque es una persona muy positiva y divertida. Mientras tanto, ¡buena suerte a Morgan en sus estudios!