La palabra del día: sleepyhead – el dormilón/la dormilona
El verbo del día: to mistake – equivocarse
Palabras nuevas
a marinade – un adobo/marinado
the applesauce – una coba/una puré de manzana
absences – ausencia
to complain – quejarse
the alps – los alpes
the bumper sticker – la pegatina para el parachoques
helium – el helio
the hydrogen – el hidrógeno
the tape recorder – la grabadora
grumpy – gruñón
the phase – la fase
a bladder – una vejiga
the speaker – el/la orador/a
the participle – el participio
isolated – aislado
the nuance – el/la matiz
the citizenship – la ciudadanía
fancy – lujoso
to rescue – rescatar
Hoy vinieron Matt, Olivia, Lisa, Angela, Josh (el novio de Angela), Manuel y E (yo). Gracias por venir!
El dictador del grupo, E (yo) ha creado una nueva cosa para el grupo! La palabra del día y el verbo del día. Cada semana, traeré la caja con nuevas palabras y verbos. Y, si puedo encontrar otra caja, añadiré un adjetivo del día y adverbio del día.
Matt compró una caja de Captain Crunch después de más de 10 años y recordó cuánto lo disfruta. Su esposa hizo un pastel de puré de manzana (¡qué sabroso!) y lo disfrutaron con su cena especial de carne adobada esta noche.
¡El primer día de Olivia en su nuevo trabajo fue hoy! Obtuvo acceso al sistema informático y pudo acceder a plano de asientos del salón de clases. Creemos que Manuel y Matt podrían ser excelentes oradores invitados en la clase de Olivia en el futuro. Manuel podía hablar de lugares de España, de su cultura e incluso de sus equipos deportivos. Por supuesto, Matt puede dar una presentación científica.
Angela encontró una fuente de máscaras que le gustan al leer un artículo en WSJ.
Hoy fue el primer día de Josh en nuestro grupo y Angel lo estaba ayudando a aprender los conceptos básicos del español. Estuvo en América del Sur hace más de diez años y fue divertido verlo recordar el español que aprendió entonces.
Lisa solía enseñar biología y química y fue consejera en una escuela secundaria y preparatoria durante 14 años. Está leyendo el libro "Caste" y ha descubierto que es un libro revelador. "Lincoln Highway" es el otro libro que está leyendo. La semana pasada, fue a la casa de su hija para verla a ella y a su nieta gemela. También visitó a su otro hijo y nietos.
Manuel fue a conducir por Estes Park para ver la nieve en Navidad y también fue de excursión a Manitou Incline (una foto está debajo). Nos ayudó a entender la diferencia entre crear y pensar: Creer se usa cuando te refieres a lo que crees o piensas. Mientras que pensar se refiere al acto de pensar, o lo que piensas sobre alguien.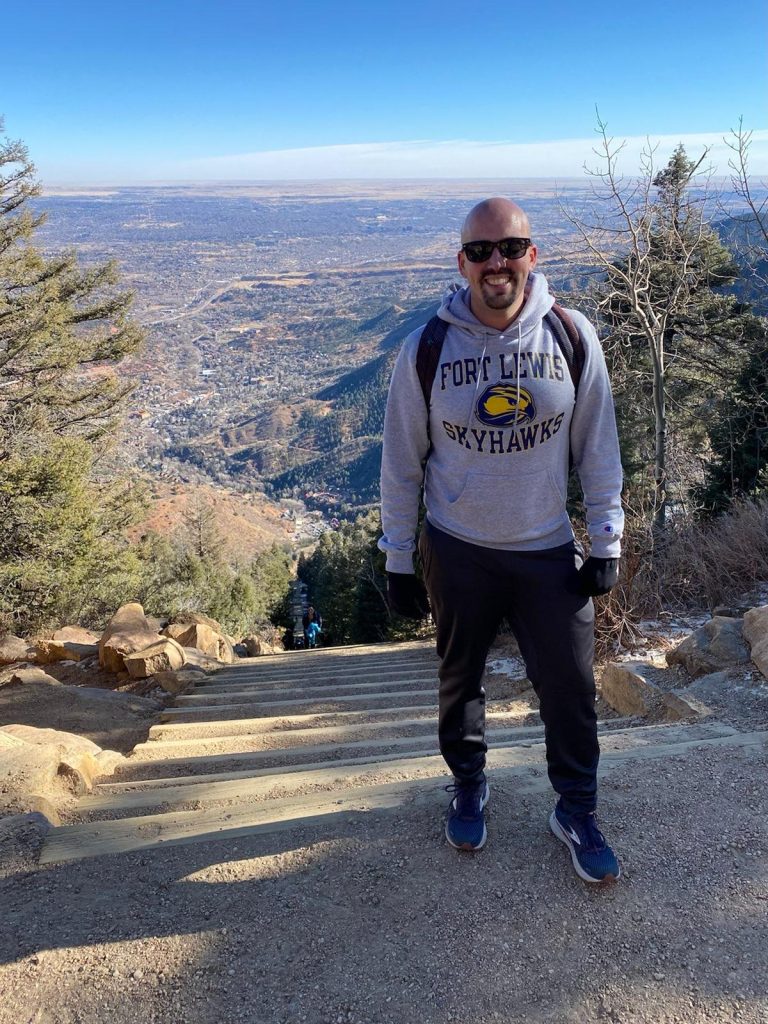 Como siempre, agradezco a Manuel por corregir mi español.
Aviso Importante:
The county requires mask wearing indoors. We will need to respect this county directive during our 5:30pm – 7:00 pm Monday meetings at The Bean Cycle. Thank you for observing this.
Si no quiere ser incluido en las notas y/o las fotos, por favor dígaselo a E.