La palabra del día: inquieto – restless
El verbo del día: flipar – to be amazed
Palabras interesantes
the allergist – el/la alergólogo/a
gravely – gravemente
the power strip – la regleta
the plug (for electricity) – el enchufe
the collage – el collage (que fácil!)
the flour – la harina
to steam (as in cooking) – cocinar al vapor
the cutting board – la tabla de cortar
the oil painting – la pintura de oleo
the carbohydrate – el carbohidrato
the slice (e.g., bread) – la rebanada
the piece of something (e.g., following cutting) – el trozo
the serving – la porción
the pet carrier – el transportín
the seniors (as in older folks) – los/las ancianos/as o los/las (personas) mayores
the sourdough bread – la masa fermentada o el pan con masa madre
Frase interesante
"Ponte las pilas" – literally "put on your batteries". Used for saying "get your stuff together" (rebukingly) or "you can do it" (encouragingly). Lisa aprendió esta frase cuando vivía en España. A Manuel le gusta mucho esta frase.
Hoy vinieron Felix, Elena, Jenna, Mel, Lisa, Lauren, Katie, Lexi, Angela, Josh, Manuel y E (yo, el dictador del grupo). Gracias por venir! No hay un grupo sin ustedes.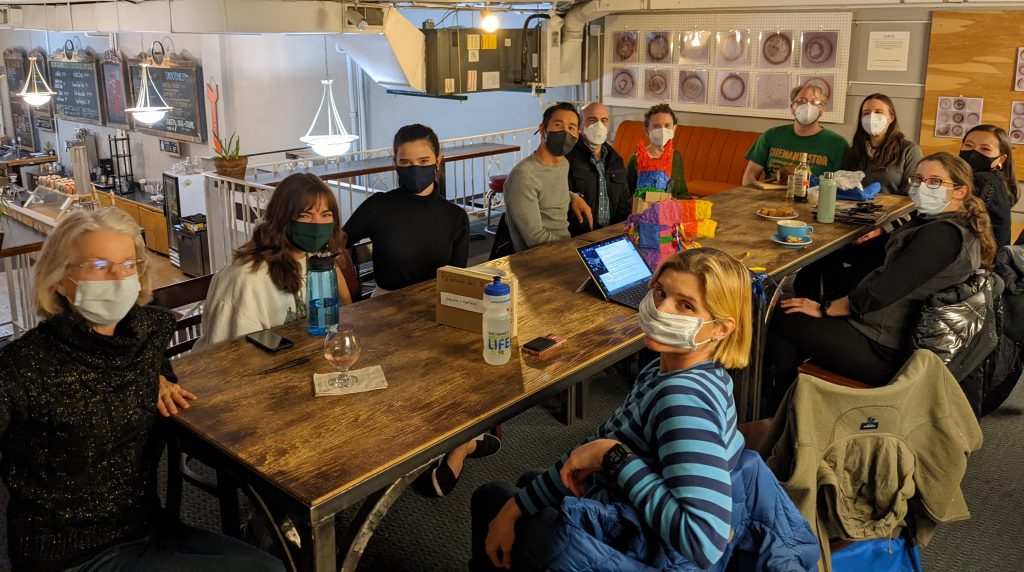 Katie disfrutó de su tiempo duratne su regreso a casa en San Diego. Quiere tomar dos clases este semestre, pero no está segura de poder encajarlas su horario.
Lexi ha estado ocupada con su nuevo trabajo. Nos pidió a algunos de nosotros que lleváramos revistas para un proyecto estudiantil du su escuela. Lisa y Katie amablemente trajeron unas cuantas. Algunas de las revistas me (E) resultaron muy interesantes: Science, Scientific American y un software similar a GIS para hacer mapas que usa Katie. La clase hará haciendo collages para el día de MLK.
Jenna realmente disfruta la música de la década de 1960.
Elena recientemente disfrutó de una cena con su familia con bistec, papas y manzanas, entre otros. Sus abuelos se mudan a Fort Collins desde Los Ángeles.
Jenna y Elena van a bailar swing al Centro Cívico un par de veces al mes.
Félix compró un transportín de gatos para Oreo para su próximo viaje a España. Todavía está esperando su visa. ¡Tan pronto como la reciba, podrá comenzar su nueva vida en el extranjero!
Mel trató de cargar la computadora de su trabajo hoy, pero por alguna razón no cargaba, así que tendrá que reemplazarla. También recibió una nueva pantalla de computadora que es curva y está muy emocionada.
Lisa pasó una noche en el histórico Broadmoor con parte de su familia. Ella estaba realmente impresionada con el lugar.
Ángela y Josh vinieron con un pan con masa fermentada que horneó Josh. ¡Todavía estaba tibio del horno ya que lo horneó hace 10 minutos! ¡Al grupo le encantó! ¡Manuel dijo que era el mejor pan que había probado en los últimos diez años! Y, me (E) gusta la camiseta de Josh 🙂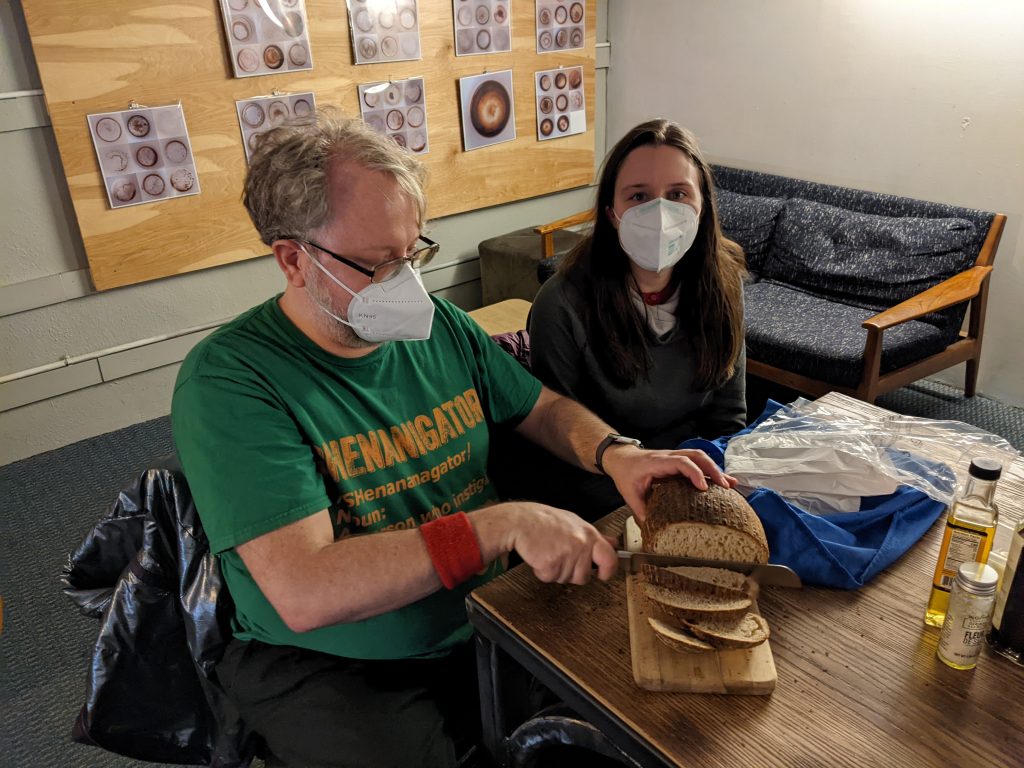 Como siempre, agradezco a Manuel, nuestro maravilloso hablante nativo de español, por corregir mi español,
Aviso Importante:
The county requires mask wearing indoors. We will need to respect this county directive during our 5:30pm – 7:00 pm Monday meetings at The Bean Cycle. Thank you for observing this.
Si no quiere ser incluido en las notas y/o las fotos, por favor dígaselo a E (yo, el dictador del grupo).